TJM is looking for highly qualified brokers and broker teams interested in the benefits of working in a larger institution, while still enjoying the advantages of working in a smaller and more co-operative organization.
TJM offers very competitive payouts, a great work environment, and comprehensive benefits. With offices in close proximity to the many exchanges in Chicago and on Wall Street in NYC, we can also offer you the space and the latest tools to service your customers in markets across the globe.
Whether you are independent or with a group, TJM delivers many of the same advantages that a much larger institution can provide, such as: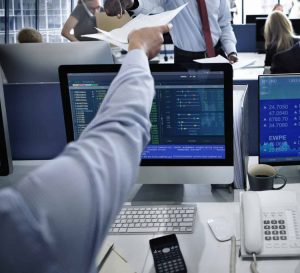 Health insurance
Strong reputation and regulatory standing
Strategic industry relationships
Exchange connectivity and redundancy
In-house technology support and infrastructure
In-house compliance personnel
Enduring floor presence
We will work with you to exceed all of your brokerage needs – and can get you up and running quickly.